Happy almost Friday, everyone! I feel like I've been all over the place with my reading lately…as in, I have been consistently working on 3-4 books at the same time. The process of finishing each book is pretty slow going as a result, but I'm a mood reader and sometimes, well, you just need a break. So, I thought I'd share with you all what books I've finished recently and what I'm currently reading.
Books I've Finished This Month
How We Disappeared by Jing-Jing Lee ⭐ ⭐ ⭐ ⭐ ⭐
This lovely piece of historical fiction got 5 stars, and broke my heart. Set in Singapore during WWII, the story follows 2 character perspectives and alternates between the year 1942 and 2000. It's an emotional journey, one of sorrow and loss, but very much about the will to survive and what that sometimes entails. I very much enjoyed this novel and would recommend to fans of raw and emotional historical fiction.
Rage by Sue Rovens ⭐ ⭐ ⭐
I gave this horror read 3 stars. It is actually set in an area close to where I grew up, which was really cool, and follows a couple different people through some difficult points in their lives. The way I interpreted the story is that there are many different breaking points that can be reached in a person, and this short story explores what can lead people to rage, mechanisms they may deploy to deal with rage, and ultimately how this emotion, bottled up or let out, can affect those around us. I found this on Netgalley and I believe it's now published and available to everyone. Check it out if it sounds like something that may interest you.
We Sold Our Souls by Grady Hendrix ⭐ ⭐ ⭐ ⭐ ⭐
This was an incredible horror read! I had been seeing this book on a bunch of horror Instagram blogs and was curious about the author, as I hadn't read any of his work yet. SO GOOD! The story is about a group of teenagers who start a band and end up selling their souls for fame and riches. Oddly enough, only one band member ends up benefitting from the contracts and the book follows one band member years later as she tries to get to the bottom of why that is, and also why no one seems to remember anything from that fateful night. It's creepy, exhilarating, and a ton of fun. Highly, highly recommend!
Survive the Night by Danielle Vega ⭐ ⭐ ⭐
This book was a total cover pick up for me. It's gorgeous and the premise sounded really good. (I've been on a horror kick lately, if you haven't noticed yet.) The story follows a group of teenagers who go to a secret and elusive party that turns out to be their worst nightmare. Drugs, alcohol, and sweaty teenagers are not the only things you need to keep an eye on while reading this book…you'll want to keep your feet where you can see them and a lamp handy. If you're a fan of classic hunter vs. prey horror, I'd recommend picking this one up. It was a quick read and I still can't get over how much I love the cover.
---
Currently Reading
Ripe: A Fresh, Colorful Approach to Fruits and Vegetables by Cheryl Sternman Rule
This book is absolutely stunning! The photography is gorgeous and the book is arranged by colors of the rainbow, which is helpful if you are really looking for some inspiration on purple things you can eat. Each highlighted fruit or vegetable gets its own page with a photograph and a short bio, maybe even some helpful preparation or long-term storage tips for when you get that craving for something that's out of season. Many are also followed by a highlighted recipe, which can be found on the page after. This is one I may want to add to my forever shelves and will probably be making its way onto my Christmas list.
Catch and Kill: Lies, Spies, and a Conspiracy to Protect Predators by Ronan Farrow
I needed something on audiobook to keep me company during a long cleaning session. I was also looking for something I normally wouldn't have much interest in physically reading (for the sake of my attention span) so I thought a nonfiction would work perfectly. Narrowed down the available now search on Libby and BAM, out popped a book heavy with conspiracy, cover ups, and powerful white men who use money and women like it's their birthrights. It can be tough to get through at times, particularly when there are women who risk a ton to come forward and speak out, only to be thwarted by a judicial system that's broken in a lot of ways. I've got a little more than an hour left of the audiobook so I'm hoping to complete it by this weekend. This is also narrated by the author, so that's a pretty cool plus for the sake of inflection and tone.
They Threw Us Away by Daniel Kraus
I've had this one on my TBR for about a year now and was really glad to see my library had it. I haven't made much headway into it yet, but I really love the illustrations and the fact that this is a graphic novel that's more on the wordy side. It also seems really depressing so far, so I'm hoping there is a turning point towards the end that bodes well for our lost and alone teddy bears. It's also really hard not to look at the pictures and see Winnie the Pooh, which adds a whole new sad factor. Will report back.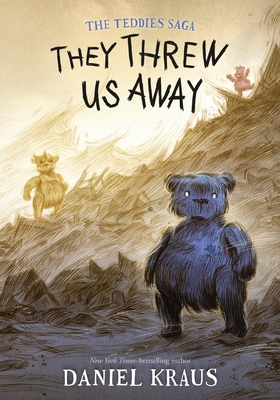 Master of Poisons by Andrea Hairston
I am about 40 pages into this one and really enjoying it. However, the writing can be kind of hard to follow at times so I am going slow and taking my time with this one. I've heard it described as African fantasy, but with a dark undertone. So far, it very much lives up to the initial description. I'm really looking forward to getting deeper into the meat of this novel and immersing myself in some rich culture.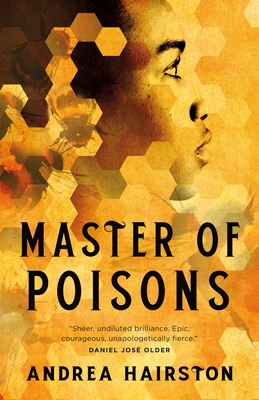 ---
Thanks for reading! If you've read any of these, let me know what you thought.