Cheers to another weekend of reading! I, for one, have had an interestingly eventful week and am very much looking forward to winding down a bit with a book and a nip ;).
I am working my way through a few different books at the moment, two of which are quiiiite large. No worries, the bigger the book the better (in most cases). I'll be using this weekend to make more headway into these larger stories, as they are both the first books in massive series and I'm anxious to dig in further. I'll have each book's Goodreads link in the title in case you're wanting to add any to your own TBR!
What are you reading this weekend?
---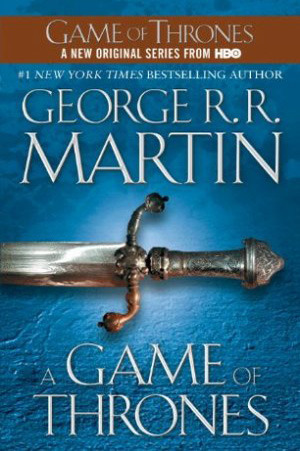 A Game of Thrones (A Song of Ice and Fire #1) by George R. R. Martin
Ok, so I am no stranger to this amazingly imagined fantasy world. In fact, I have watched the show in its entirety more than twice, which when you think about it, is A LOT of screen time lol. It seems only fitting to read the books as well. Also, my hubby is on book four so my brain is screaming at me to catch up before he wins?! I am in awe each time I really sit down and think about how complex and intricate the characters are, and story line is. Truly a masterpiece in my opinion. I am almost halfway through book one and am appreciative of the fact that the show follows the plot points VERY well so far, though there are the expected differences between the books and TV adaptation. I can't wait to continue this beast of a book further.
The Girl Who Sees (Sasha Urban #1) by Dima Zales
This was advertised in e-book form for like 99 cents, and after skimming the synopsis I was like, "eh, sure why not." At about 22 percent into the story though, I am unsure as to whether or not this may be a DNF. I'm mostly kind of confused as to what's going on, and this far into the book I don't know if that's going to change. The synopsis is brief and that's actually what interested me, as I like going in almost blind to books. Maybe the confusion is part of the magic of the story. We. Shall. See.
The Eye of the World (The Wheel of Time #1) by Robert Jordan
Slowly working my way through this behemoth and am loving every minute. I'm not very far into the story yet, as I seem to think dividing my attention between multiple books at once is in my best interest…
The reviews I've read about this series in general have all been mostly singing the praises of this high fantasy world and its characters, so I'm really excited to make some major headway into this first book and find out for myself what all the fuss is about. If any of you out there in the cyber world have read any of the Wheel of Time books, what did you think?
---
These are what I'll be working on this upcoming week! Thanks for reading!