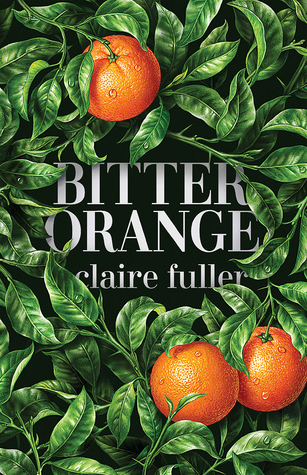 "Who wouldn't want to rewrite their past, if it means it will change their future?"
Rating: FIVE Stars ⭐️⭐️⭐️⭐️⭐️
Synopsis
From the attic of Lyntons, a dilapidated English country mansion, Frances Jellico sees them—Cara first: dark and beautiful, then Peter: striking and serious. The couple is spending the summer of 1969 in the rooms below hers while Frances is researching the architecture in the surrounding gardens. But she's distracted. Beneath a floorboard in her bathroom, she finds a peephole that gives her access to her neighbors' private lives.
---
My Thoughts
It's been two days since I finished this book and I'm still not quite sure how to put into words what a wonderful read it was. Bitter Orange is a historical fiction novel that is written with an element of mystery, and characters that will suck you right into the story. Our three main characters Cara, Frances, and Peter each have a psychological depth that only deepens as the story progresses and they develop. Each has a past they would do just about anything to change or forget, and their dynamic is one of codependency on that front, but also solidarity. But what I loved most about this novel was the thrill of wondering what was going on underneath the surface and when I was going to find out. The suspense builds slowly, but not in a way that makes you all jittery like you've had too much coffee. It's perfectly paced and because you know going in that something will happen, it allows you to enjoy the entire reading experience rather than spend all your time trying to predict and guess at every page turn.
Claire Fuller takes you on a literary journey that not only keeps you interested, but gets you invested in the lives of the characters. And you won't realize you're that mentally deep in the novel until you put the book down for a spell and see that the story is all you can think about while you're at work, making food, visiting with friends, etc. You'll get bits and pieces of each characters' past as they get to know one another but from their perspective, and the funny thing about perspective is that it does not always equal truth. In fiction or life in general.
This is the type of novel you could read again in the future and discover things you missed the first time. I've read reviews where people suggested the use of symbolism throughout the novel. While I agree that, yes, I can definitely imagine this book being examined in AP Literature classes, I didn't pick up on the supposedly glaring symbolism and that may be in part due to the fact that I was never really that great at identifying those elements by myself. I took the AP Lit classes in high school and greatly enjoyed dissecting the books on a philosophical level, but had I not been in those classes I never would've picked up on many of the suggested themes if I had read the book on my own. So, I will absolutely reread this book in the future and take it slowly in hopes of identifying the possibility of hidden themes I may have missed the first time.
Overall, this was an excellent read and I feel so lucky to have picked it up. I will absolutely be recommending it to anyone with ears, in true bookworm fashion: too often and with so much enthusiasm that if executed properly will be interpreted as slightly aggressive and pushy. No apologies.
You can find the Goodreads page for Bitter Orange here
---
Thanks for reading! May your books be massive and your reading time infinite.