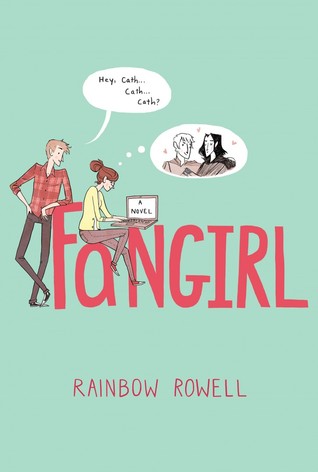 Sometimes writing is running downhill, your fingers jerking behind you on the keyboard the way your legs do when they can't quite keep up with gravity.
Rating: FOUR Stars ⭐️⭐️⭐️⭐️
Synopsis
Cath is a Simon Snow fan. She and her twin sister, Wren, ensconced themselves in the Simon Snow series when they were just kids; it's what got them through their mother leaving. Reading. Rereading. Hanging out in Simon Snow forums, writing Simon Snow fan fiction, dressing up like the characters for every movie premiere.
Now that they're going to college, Wren has told Cath she doesn't want to be roommates. Cath is on her own, completely outside of her comfort zone. For Cath, the question is: Can she do this? Can she make it without Wren holding her hand? Is she ready to start living her own life? Writing her own stories?
---
My Thoughts
Fangirl is one of those books that reads how you would expect a YA genre novel to, but also offers the reader insight into the completely chaotic world of writing like your life depends on it.
Told from the perspective of Cath, the story follows her and her twin sister Wren through their first year at college as they learn to navigate the stresses and challenges that come with being freshmen. We also get a front row seat to watch them learn more about who they each are as individuals, rather than just one entity, as twins can sometimes find themselves referred to. But what I think this book really speaks into is the essence of comfort zones and dealing with change. One does that very well and the other does not.
The story itself is actually kind of mundane, as the plot has everything to do with college life, meeting new people, dorm room mates, class, parties, and boys, etc. Not really the kind of book I find myself enjoying much anymore; however, I really enjoyed this one. What I think makes this book so popular is our MC Cath. She's relatable to so many of us introverted, slightly anxious people that it's hard not to connect to her thoughts and feelings early on in the book. She is also a character that, for me, was extremely frustrating at some points. But I think that's the magic of this character. Perhaps Rowell has painted such a vivid picture into the mind of this completely relatable girl so well, that we start to see and recognize some of the most frustrating parts about ourselves. "You are your worst critic" is a painfully true statement, and actually comes to mind as I'm thinking about what frustrates us about ourselves, and which of those things we may just be super critical of. I love books that make you think, especially ones that make you think about difficult aspects of life, personal aspects. And this book did that for me, and that's why it got four stars. Well, that and the fact that I thoroughly enjoyed the writing style and how the character dialogue was narrated, both inward and outward. It's wonderfully done.
What I most dislike about this book, however, are the excerpts of Cath's fan fiction writing. Her writing is not bad, it's very well done actually, but it took away from the story for me. These excerpts were meant to add an extra layer of depth to the overall atmosphere of the story and I can totally see how the author meant to make them work in unison. But I was so deeply interested in Cath's story that I found myself wanting to skip over the fan fiction parts to get back into her life, her thoughts, her progress. Her fan fiction writing just kind of felt like a distraction. I didn't connect with her characters or their stories, and I just lost interest. The only thing those excerpts did for me was solidify my knowledge of Cath's obsession as a writer, and how a little bit of crazy passion for your art is what typically makes for the best stories people can read.
And that's what Cath does. She writes. She's been working on her fan fiction for years. It's her comfort zone, her happy place, her escape from reality, her baby. When reality gets overwhelming, which it does dramatically during her first year at college, Cath retreats to what she knows and there she finds solitude. What I think the author does really well with this aspect of the story is highlight how Cath's writing is both a blessing and a curse. She's passionate about it and she's so incredibly talented as a storyteller, but it also becomes a sort of crutch that holds her back from experiencing life, or just living it in general. And the author just does a really awesome job of taking the reader on this journey with Cath as she starts to see these patterns within herself and starts to consider the implications of whether or not to break free of this shell she's built around herself.
The quote I left at the beginning of this post is what I think perfectly embodies Cath's feelings towards life, and how she uses the act of writing to describe how she actually feels about the world around her.
Anyways, those are my thoughts. If you pick this book up, or have already done so, you may get something completely different out of the story than I did. But I did enjoy it and I hope you do/did as well. Happy 2019 everyone!
---
May your books be massive and your reading time infinite